BKI PREMIUM ALKALINE RO SYSTEM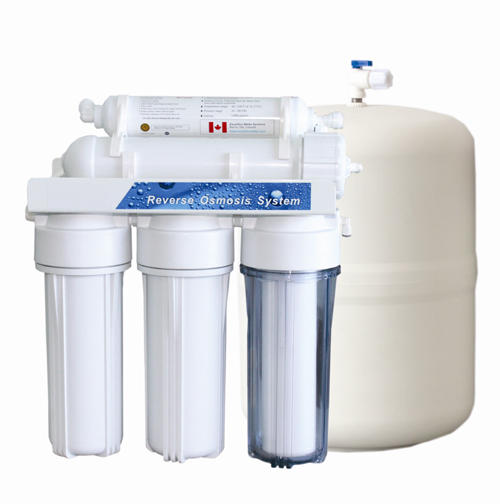 6-Stage REVERSE OSMOSIS SYSTEM (no booster pump or computer)

System Benefits :
6 Stage Reverse Osmosis System.
75 Gallons per Day.
5 micron Polypropylene spun filtration for silt, dirt, rust, turbidity and iron removal.
Enalka cartridge to raise alkalinity level to 7.3 and eliminate acidity.
10 micron carbon block VOC chemical removal filter to eliminate chlorine, THM's and taste and odour.
0.5 micron Doulton ceramic for bacterial removal.
High purity thin film composite Reverse Osmosis membrane that removes volatile chemicals, sodium's, pesticides etc.
Premium leadfree ceramic disc designer drinking water faucet.
5 gallon high purity composite pressure holding tank.
Inline post polishing filtration for taste and odour removal
Removes the following contaminants:
Chlorine, THM's, PCB's, Pesticides, all volatile chemicals, TCE'S, Copper and lead, Cryptosporidium Parasites, Guardia Parasites and many others.
FEATURES:
100 Gallon per day output
TFC high purity membrane
Large 4 gallon storage tank
Leadfree designer drinking water faucet
Can be connected to refrigerator for water and ice.
Acidity in your water is extremely bad for you. Bacteria and a host of other disease causing agents thrive in an acidic environment. Why help them by drinking the acidic water that they truly thrive on? The average North American diet consists of more than 80% acid forming foods like fast food, snacks with sugar, and soft drinks. Your health should be top priority!